Check this out.
Here is the prize I won last weekend at Katherine's Tacky Vintage 240 Event. Need I say anymore than quote the title :
"The Museum of Kitschy Stitches - a Gallery of Notorious Knits.
By Stitchy McYarnpants.
Every time I pick this book up, I am in fits of giggles. I think I'll try and post a page a week.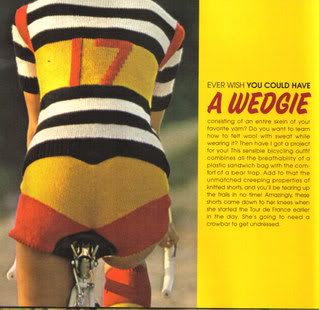 Text reads:



"Ever wish you could have a wedgie consisting of an entire skein of your favorite yarn? Do you want to learn how to felt wool with your sweat while wearing it? Then have I got the project for you! This sensible bicycling outfit combines all the breathability of a plastic bag with the comfort of a bear trap. Add to that the unmatched creeping properties of knitted shorts, and you'll be tearing up the trails in no time!Amazingly, these shorts came down to her knees when she started the Tour de France earlier in the day. She's going to need a crowbar to get undressed."













Classy!